Hello Beautiful People,
While we always want to focus on the beauty of life and keep it positive, recent events remind us that life presents us with challenges and tragedies we aren't prepared for. It's in these moments that our community's strength truly shines. At Chanel Frances & Co, we have decided to host an event with a cause very close to our hearts. Recently, Lewiston experienced a heart-wrenching tragedy. In our little way, we hope to offer some solace and support to those deeply affected.
Event Details
When? Sunday, November 12th, bright and early, from 8 am to 1 pm.
Where? Our lovely space at Chanel Frances & Co., 22 Main St Unit A, Kennebunk, ME 04043
What's the Plan? We're coming together as a community to raise funds, aiming to alleviate some of the burdens the affected families and individuals in Lewiston are currently facing. By offering our signature brow makeovers, we hope not just to make you feel beautiful but also to channel that beauty and positive energy into a cause that needs our collective warmth and support.
What Does It Cost? We're asking that guests to our event pay what they can. We're not setting a minimum or maximum.
Where is the Money Going? All raised funds will go to the Maine Community Foundation, Lewiston response fund.
Please join us, be a part of this initiative to raise money for Lewiston, and let's turn our love for beauty into a beacon of hope. We're looking forward to seeing you there. 💛
"Brows for Benefit" Services 
Your brows frame your face, express your emotions, and tell a story. Sunday the 12th, we're giving them the TLC they deserve—all for a great cause. Here's what we have in store for you:
Brow Waxing

: Sometimes, those little stray hairs can be quite the rebels, right? With our gentle waxing technique, we'll help you achieve that neat and tidy brow line you adore.

Trimming

: Brow hairs, like the hair on our heads, can sometimes have a mind of their own. Our trimming service ensures they stay in impeccable shape and look their absolute best.

Styling

: No brow session at Chanel Frances & Co. is complete without a touch of expert styling. We'll make sure your brows not only complement your face but truly stand out.

Optional make-up fill-in

: Sometimes, all our brows need is a bit of enhancement. Whether you have sparse areas or want a fuller appearance, our make-up fill-in is the perfect touch to elevate your natural brow shape.
Can't Make It But Still Want to Contribute?
Not to worry, Beautiful! Your heart's in the right place, and every bit counts. If you can't join us in person, you can still make a meaningful difference. Simply scan the QR code provided and donate. Your support will go a long way in helping those affected by the Lewiston tragedy.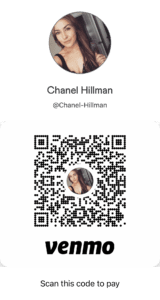 From the depths of my heart, I want to extend a warm thank you. Whether you'll be joining us in person, contributing from afar, or simply sending us your best wishes, your support means the world. It's moments like these that truly highlight the strength and unity of our community. When we come together, we can weave a tapestry of support and love that stretches far and wide.
Please Help Us Spread the Word and Raise Money for Lewiston!
Honey, word of mouth is golden. If this cause speaks to you, don't hesitate to share. Whether or not you can join us or contribute, amplifying our message can make a world of difference. So, please share this blog post, mention the event on your favorite social platform, or tell a friend. Let's get the word out and make Sunday a day of beauty, both inside and out. 🌟