About Chanel Frances & Company

Chanel Frances & Company is a premier beauty and wellness establishment located in the charming town of Kennebunk, ME. Our mission is to provide top-notch beauty services to our clients in a warm, welcoming, and relaxing environment. We offer a wide range of services, from lash extensions and skin treatments to brow lamination and more, all performed by our highly skilled and experienced technicians.

The Beauty of Kennebunk, ME
Kennebunk, ME, is a picturesque coastal town known for its stunning beaches, historic architecture, and charming boutiques and restaurants. It's the perfect place to escape the hustle and bustle of daily life and immerse yourself in a world of relaxation and rejuvenation. At Chanel Frances & Company, we're proud to be a part of this wonderful community and to offer our clients a little slice of heaven in the heart of Kennebunk.

Chanel Hillman, Expert Aesthetician and Owner of Chanel Frances & Co.
As the owner and aesthetician of Chanel Frances & Co., Chanel Hillman is a master of beauty and style. Born in Scotland but raised in Maine, Chanel's passion for making people feel beautiful started at a young age and led her to pursue a career in the beauty industry. She is a graduate of Capilo's Institute (now known as Aveda Institute) in Augusta, Maine and has received extensive training in all aspects of beauty, including lashes, brows, and body waxing.
With a decade of experience in the beauty industry, Chanel is a true expert in her field. She is certified in all forms of lashing and has completed multiple permanent makeup trainings, making her one of the most well-rounded aestheticians in the business. She has also spent eight years perfecting her waxing craft, making her treatments efficient, quick, and as painless as possible.
Lashes are Chanel's true passion, and she loves the confidence they give to everyone who wears them. She wakes up every day with the goal of helping her clients look and feel their best. In addition to lashes, Chanel also loves traveling the world and meeting new people, sharing her craft, and connecting with others over a story, a drink, or any form of energy.
At Chanel Frances & Co., Chanel offers a customized and personalized approach to beauty, tailoring each treatment to each individual client's unique needs and preferences. Whether you're looking for a stunning set of lashes, perfectly shaped brows, or a quick and painless wax, Chanel has the skills and expertise to make you look and feel your best. Book your appointment today and experience the magic of Chanel Frances & CO!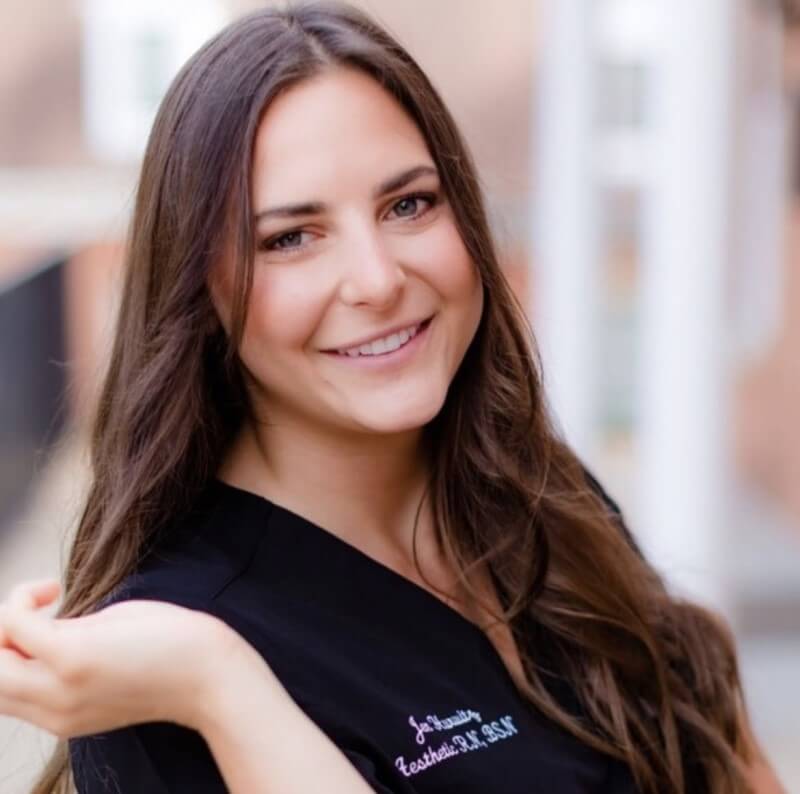 A Nurse With a Passion for Beauty, Health, and Wellness
Jennifer Cooper is a registered nurse with a passion for beauty, health, and wellness. She has always been fascinated with the idea of helping people feel beautiful from the inside out, and this passion led her to pursue a career in medical aesthetics. With a background in critical care nursing and a second bachelor's degree in nursing, Jennifer brings a wealth of knowledge and experience to the field of aesthetics.
As a lover of all things health and wellness, Jennifer is always up for trying new treatments, such as Botox and fillers, to keep her clients looking and feeling their best. With three years of nursing experience, Jennifer is well-equipped to provide her clients the highest standard of care.
Jennifer is thrilled to have recently relocated back to Maine, where she can work with Chanel Frances & Co to help her clients feel beautiful. She is dedicated to making a positive impact in the lives of those she serves and is always looking for ways to improve her skills and knowledge. Whether you're looking for a simple touch-up or a full rejuvenation, Jennifer is here to help you feel confident and beautiful in your own skin.

Book Your Appointment Today
Ready to experience the ultimate in beauty and wellness? Book your appointment at Chanel Frances & Company today and get ready to be pampered from head to toe. Our technicians are waiting to help you look and feel your best, so don't wait any longer. Book now and start your journey to a more beautiful you!